I arrived back in Tbilisi. The beginning of April, with warm days, cool nights. My favourite time of the year. I knew my buddy George was in town but when I checked in @Pommegranate Hostel there he was. We caught up over some wine. We had lot of stories to swap since we last met, October 2015, before I went to Africa.

We went drinking. A lot. I had no idea what I was going to do. I had no motivation. We walked the streets. We bitched about how Georgians never reply to emails. He was wheeling and dealing, I wanted some hostel work. We waited for answers. We drank.
I came up with a plan. I would head direction UK and hope to find a hostel gig en route.

I travelled to Batumi from where I would take the ferry to Chornomorsk, in Ukraine. I would write a story about that. A blog post full to the brim with logistics.

I tracked down the ferry agent in Batumi. No one on line was posting this vital piece of info. The few blog posts I found were from 2009. I found an opening. It was my chance. A post about the ferry crossing would put me on the ladder to stardom.

A hostel gave me a free night in exchange for a mention and a link to their FB page. Boat trip over, I wrote my story. A hostel in Odessa gave me a discount for 1 night. Caravanistan used my info and a few photos for their logistics post about the trip. They linked me from their page. A very good back link for sure.

My Batumi to Chornomorsk post started getting a few hits. This was first post since I decided that I would submit my site to Google. I was on the bottom rung on the ladder. I was excited.
The hostel in Karakol where I had worked last year emailed me. I was welcome to return. My dad, bless him, offered to pay for my flight. A few days later I was travelling once again from Almaty to Bishkek and onto Karakol.

Things started OK but then started to carry on as they had done for much of last summer. I worked long hours. 7am til 10pm. The season was slow to get going. No one got any supplies for the hostel, nor for me. They just avoided me. I took some of the room payment from the few guests we had to buy my own stuff. They had decided to employ a relative to do what I had done last year. Yet he was totally un motivated. I was never sure when he would come to work. 9 or 10 or sometimes not at all. I was fuming. They never really sorted it completely. After some time, it was agreed that I would work the mornings and evening, sorting out the stuff the relative was incapable of doing, like all the important stuff. The bookings, the food, the travel info. Basically everything.

I wanted to leave. But had no money. I had to stay and make the most of it.
My boss had married the boss of another hostel. She employed volunteers too, organised thru 'work-away'. I spoke to her staff. They said they worked long hours and sometimes got just a coffee for breakfast, yet the boss would tell me that her staff worked only 5 hours per day and were given a good breakfast. I encouraged her staff to leave a bad review when they left. She was better than my boss at watching the pennies and with her now being a family member, I suspect it's one of the reasons why they were reluctant to give me too much food. Her volunteers got nothing. She thought too that I should get nothing too.
Below is a comment from the hostel re mis-treating the volunteers as featured on booking.com. She is doomed!

Another place, owned by yet another family member, also ran a guest house and was expanding. She asked me how she could find volunteers. I gave her the low down. And pushed the point that it's a contract and the volunteer will work only 5 hours a day, 5 days a week and 1 meal must be provided, everyday. She was shocked. She thought that she could abuse and exploit her workers. So I added the point that if you over worked the volunteer and they left a bad review, 'work-away' will block you. I dunno if it was true but they don't know shit. It was worth trying to protect any new volunteers who might come.


I had plenty of time to write and up grade my website. I had lots to do. I re worked many pages, submitting more and more pages to Google. I was good at pages offering information. Logisitics and visas, were much easier to SEO and hence get myself onto page 1 of Google.

I concentrated on a certain page about hitchhiking from Karakol to Almaty via the Kegen border crossing. Caravanistan linked me on his forum. My hits started going up. I tweaked the coding, the SEO. Each day I discovered some new method to help my cause, whether it some SEO trick or coding that made my site look better. I had loads of pages that needed tweaking.

I grew tired of the whole situation at the hostel. I also needed a way earn money and not rely on the hostel. I asked the dad of the family, if we could open a camp site. One of his many ideas. In the end we decided on a bike rental business. I could operate from their old shop. We got a rental license. We bought 3 bikes. It started well. We got business cards, I distributed them to my favourite cafes. Everything here works on kick back. Any recommendation deserves 10%. But cos last year I was sending guests to cafes and restaurants and some agencies I could leave my cards for free and no kick back would be expected.

I had a load of empty gas canisters, the ones used by trekkers. I got them refilled for 60som each and sold them for 250som each. I got some maps for 300som each. I sold them for 450som each. The gas and map business was my own investment, my profit, my risk. I was making money. I knew where I could get stuff and save the tourists from having to run around town. For bike rentals I got only a small income. But it gave me a base from which to work from. I still worked at the hostel. I could talk to the guests and rent out bikes, sell maps and gas canisters. Most of my business came from the guests where I worked. Where I lived.

A girl from one of the restaurants in town came past, giving out flyers. My boss said they always paid kickback. It gave me an idea. I contacted the boss there and asked her about sponsorship. A deal was struck.
For a small sum, I posted a logo on 3 of my pages on this blog.

The place where I get my maps, a US AID funded project, could also organise transport. Enylchek, a trekking area, 5 hours from Karakol was popular for extreme trekkers. The going was tough. Unpredictable. When the rains come, the rivers would become to deep to cross. It was that type of place. Kickback from organising transport there helped the bike rental business. The rental licence had to be paid and the investment for the bikes, recovered.

Bike rental was slow. But wheeling a dealing, was my way of establishing myself as someone who could be relied upon. I knew how to get around the region better than any one. I had a list of all the marshrutkha numbers to all the relevant destinations. I could get what ever trekkers needed. Sending them to the trekking agencies who would give me kickback. If the clients came to my shop, I counted it as bike rental business. If clients were hostel guests, the kickback was mine.

Some times a week would go by with no clients. No one would want to hire bikes, the trekkers brought everything from Bishkek. Then my work mate at the hostel would call. A guest wanted a map and a gas cannister. In the morning, another map, 2 going hiking came past the shop and I sold my last 2 80% full gas cannisters for 250soms each. 500 pure profit. They'd been left last year in the hostel. I weighed most of them and sold 6 in total. Easy eh. No outlay, no work. Then came my 2nd Enylchek trip. On the promise of another one next week too after I told a couple that I'd beat anyone in town on price.

The season was still slow. 2016 was much busier. Had 2017 been like 2016, profit would have been much more.
Whilst I waited for bike rental clients I'd write, tweak and reformat this blog. Daily hits were increasing. Most were from organic searches. Many hits were listed as new visitors. This was great but what I needed was for those who had seen my site to come back every few days or so. If I could somehow get that, then I'm sure my daily visitors would be up near the hundred mark. To encourage visitors back, I needed more content, better content.

I took a rare day off. I rode one of my rental bikes to Jeti-Ögüz (above image) and wrote a story about it. I worked hard, tweaking the SEO so I was competing with the likes of Trip Advisor and Wikitravel.

I asked a guest house there for a free bed for a few nights in return for a bit of promo, to which they agreed. I was sending her a few guests here and there, getting 10% from that too. It was clearly a win win situation for both of us.

As a foreigner here, I was trusted. I was new to blogging, I was new to wheeling and dealing, yet found I could do both ok.
---
---
Powered by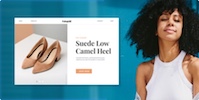 Create your own unique website with customizable templates.